---
If you are interested, please contact me on Discord or Twitter
Twitter: @ShadowTheSpirit
Discord: Shadow The Spirit#0585
---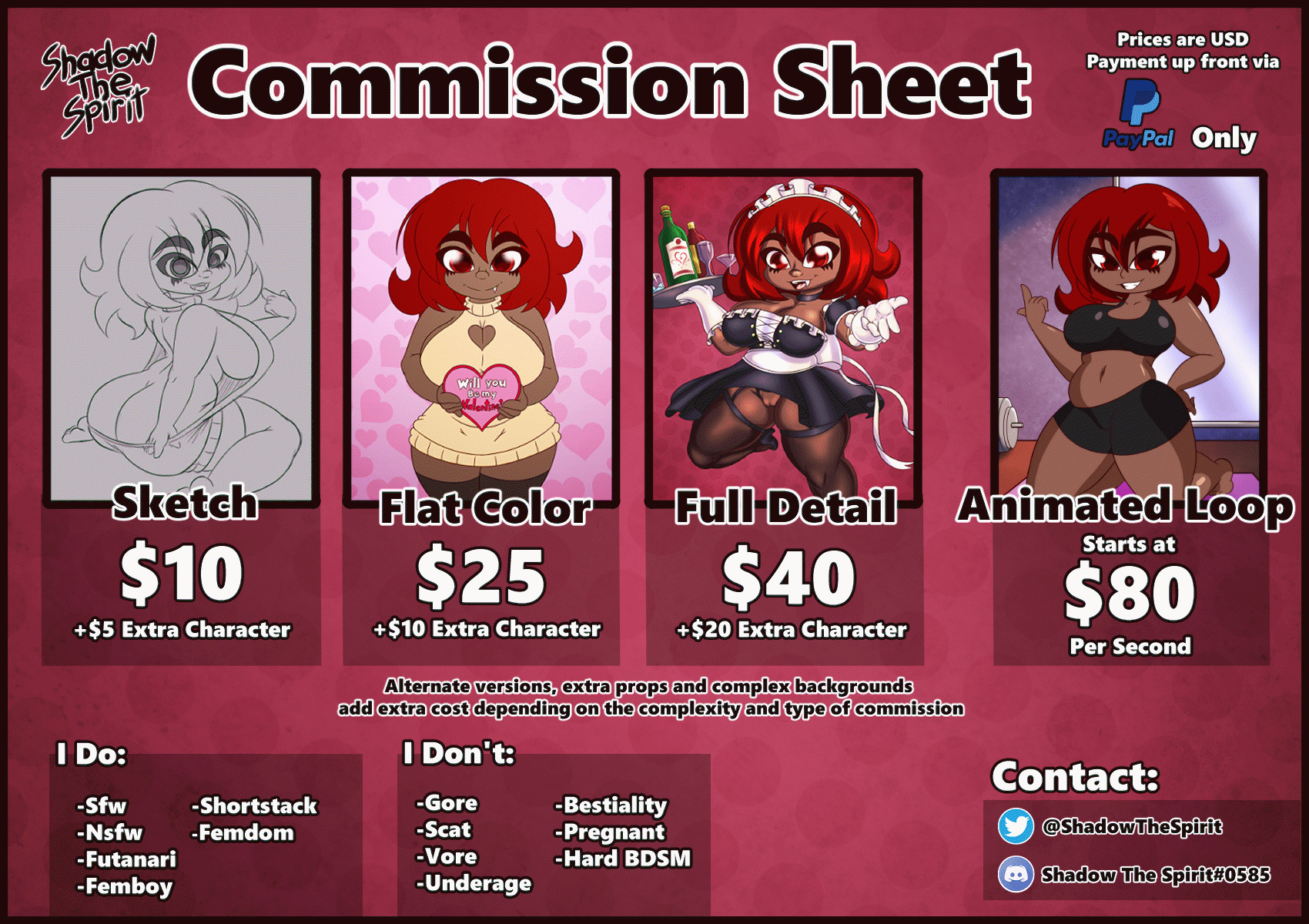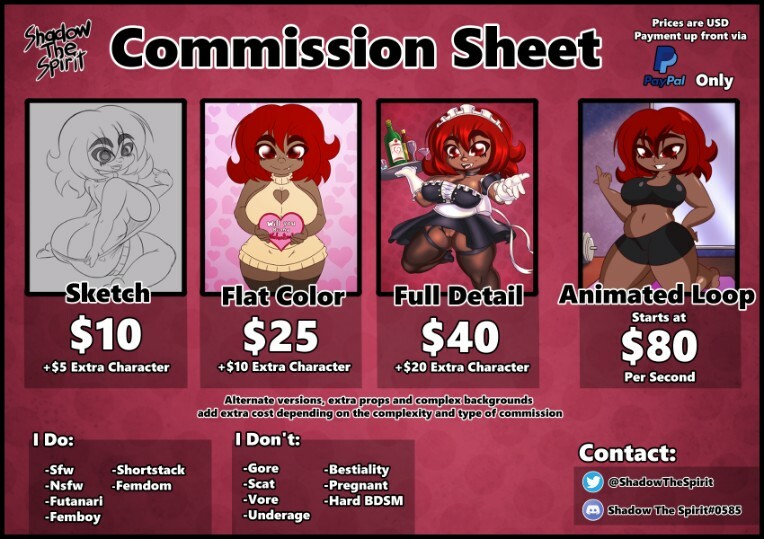 Commission Information
Sketch commissions have a light grey background.
Flat ,Full color and Animation commissions include a simple pattern, gradient or simple shape background chosen by me (if you want a specific pattern, shape or color let me know).
Clear visual reference of the character is required for any commission (I don't do character design).
If the character is from another artist this must be specified beforehand.
Real life people must contact me and give their permission (Screenshots won't be accepted),including cartoon representations (Jaiden Animations for example).
Monsters / Furry / Anthro: I'm pretty flexible with what I can draw as long as it doesn't have a very prominent snout (is case dependent, just ask), I won't draw bestiality.
Any type of fictional genitalia ( dragon dick for example) can be negotiated if detailed references exist.
Aged up versions of characters can be made, however proportions will be changed (taller stature, bigger boobs, thicker thighs, etc....), all of this is character dependant.
Any references for poses are appreciated however I don't copy pieces from other artist so poses may be similar but not copies.
Floating penises, sex toys or tentacles don't count as extra characters however an excessive amount of them may cost extra.
Featureless characters do count as extra characters.
Detailed backgrounds add extra cost based on complexity.
Will Do:
SFW
NSFW
Futanari
Femboy
Femdom
Shortstack
Tentacles
*Furry/Monster Characters Are case dependant (The more animal like the less likely I'll do them)
Won't Do:
Complicated or very detailed designs
Scat / Diapers
Gore / Internal Organs
Vore
Underage / Childlike Characters 
Any type of offensive content
Detailed Muscles
Bestiality
Inflation (Except slight cum inflation)
Hard BDSM (Gagballs and handcuffs are Ok)
Extreme fetishes
Pregnant Porn
Any fetish not listed here, but that I don't feel comfortable with I won't do
I reserve the right to decline your commission for any reason.
Animation Specific
Extra characters add +50% for each character.
Detailed description of the motion must be provided (gif or video references are appreciated but not essential).
Complex motion or clothing add extra cost based on complexity.
A rough animation with few frames will be send to confirm the motion
After every step of progress a gif will be send to confirm the animation, if it's approved by the commissioner it can't be change later on.
Terms of Service
Character and type of commission need to be specified and agreed on before full payment is done.
Commissions are for personal use only, you may not resell them, make merchandise or use them for advertising purposes.
All commissions will be have my watermark in a non intrusive manner
(Not negotiable)
Work will begin after full payment is processed, during the sketch stage corrections and changes may be done, changes cannot add props or completely change the agreed pose.
After sketch is approved no changes will be made and only minor corrections will be done
I reserve the right to post and share the final piece on my social media, on Patreon rewards and as portfolio material with the commissioner's name on the post.
(Anonymous commissions can be made)